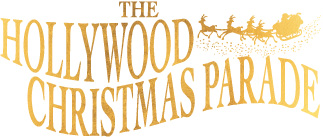 We are proud to share with you that the City of Los Angeles will once again be presenting The Hollywood Christmas Parade! This year is the 89th anniversary of the parade, and will be the best year yet! We look forward to your support and participation.
Sunday, November 28th, 2021 @ 6:00pm
From the Heart of Hollywood! Starting on Hollywood Blvd. at Orange Drive the U-shaped parade route will travel east to Vine, south on Vine St to Sunset Blvd. and west on Sunset Blvd. back to Orange Drive.
Parking is always a premium in Hollywood. One of the best places to park is the Hollywood/Highland shopping complex. There are other public lots. There is a charge to park at these locations so please contact these individual lots for parking fees and come early to avoid the traffic and possible street and ramp closures. Also be aware of postings on streets that will be designated "NO PARKING" for the parade!
One of the easiest ways to get to the parade via Metro Red Line to Hollywood/Vine or Hollywood/Highland. Both stations get you directly onto the parade route.
THE 2021 HOLLYWOOD CHRISTMAS PARADE WILL BE HELD ON
SUNDAY, NOVEMBER 28TH, 2021